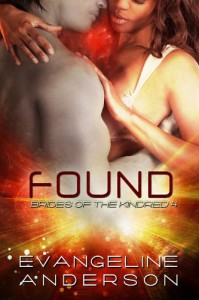 Found is book # 4 of the Bride of the Kindred Series. And so far it has been the hottest of all 4 books. I am a sucker for stories like this, filled with conflict, bad guys, kick ass heroes, smart heroines and hot aliens.
I like Found more than the first 3 books because it is the one that has showed more struggles, more conflicts, and more action. I was intrigued by Xairn from the moment his character was introduced in the series. His dark nature, his struggles and conflicts made him one of the most interesting characters in the series. I think of all of the "heroes" Xairn is the best. Not to mention hot, sensual and erotic.
I also enjoyed Lauren. She defines the perfect character in my eyes. She was smart, strong and independent. I am totally against the whining, weak and always waiting to be saved type of characters. Her character is so different from the others in the Kindred Series. Angeline Anderson did a great job, Found is a must read and one to add to your collection.