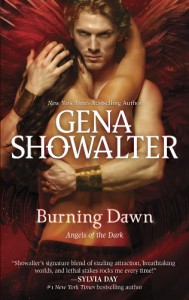 Review: Do you love angels? Well, I do too. Burning Dawn is book #3 in the Angels of the Dark series by the amazing Gina Showalter. In this installment we meet the hot and ever playboy Thane. His duty is to fight evil and some may say to bed women as well. Thane is everything I like in an character, he is strong, relentless, brutal and hot. He has had his share in the world, his past forces him to feel a violence he never felt before, while his heart lives in a perpetual commotion.
Gina Showalter writes great paranormal stories that tend to touch the readers heart and at times squeeze the breath out of us with powerful scenes and amazing setting and scenarios. Burning Dawn is the awakening of Thane and a shot at a second chance. Thane is one of those characters that draw us into his world and one can't help but love him from the start. This story of love, trust and redemption is very engaging. I enjoyed the attraction between Elin & Thane, I enjoyed enjoyed their differences, their interaction and dialog. The way in which things slowly progressed and how well the story flowed without feeling rushed.
Stories of good vs evil are everywhere but very few manage to be as engaging as Burning Dawn, these angels know how to rock the world in more ways than one can think of. Showalter did a great job, the way in which she explored Thane's feelings and emotions was great, she gave us a troubled man, a man who didn't think happiness was a possibility in his world.
The story has great characters, we get glimpses into other characters state and lives, as well as new and old drama between the angels and the evil they fight. Overall I enjoyed Burning Dawn because it gives us a steamy and sensual love story that grows slowly and become stronger as many events develops and the fight against evil prevails. The Angels of The Dark series keeps getting better, do not delay to start reading it. If you thought vampires were hot, just wait until you get a taste of these angels.